IP.Order offers you the following functionalities:
Order management – Automated order routing and order matching with optimal security
IP.Order offers you a powerful order management system for web-based securities trading. Trading with IP.Order means straight-through processing – from the broker to the DZ PRIVATBANK depositary. You can order directly from your PC in the office, but also from your laptop on the go, via the internet.
Investment Compliance Check – Automated monitoring of investment limits
IP.Order automatically monitors all statutory supervisory and contractual investment limits for your funds. With IP.Order all investment limit compliance results are firmly in your field of vision and you can even simulate the effect of your order on investment restrictions before placing your order. This way you avoid unnecessary violations and damage to your reputation.
Do you have any questions about the results? An expert is available by telephone any time – for whenever things have to move quickly.
Do you need additional monitoring of your own specifications? Our specialists are available to help you from the design stage through to integration into the system.
The system also allows individual and timely changes to the implementation of rules, guaranteeing you the greatest possible flexibility in monitoring and designing your investment policy.
Furthermore, our specialists are always available to help you, for instance, with the technical design of your investment limits when the fund is launched or with monitoring investment limits in day-to-day operation.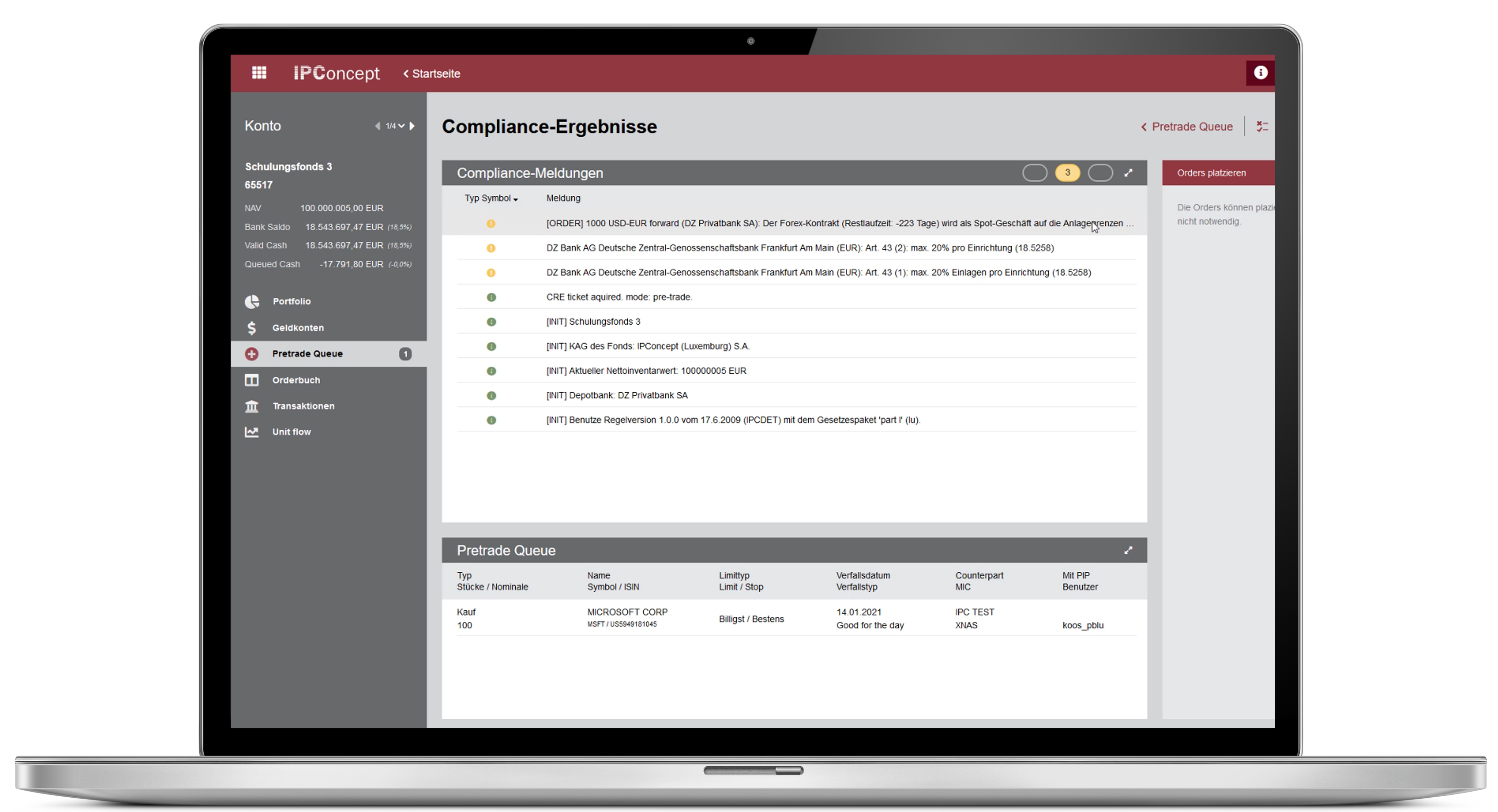 The advantages are abundantly clear:
Risk control for each order status
Up-to-date, detailed compliance checks
Complete auditing certainty
Maximum transparency and user friendliness
Available worldwide via the web app
Convenient and secure access around the clock
Support from experienced specialists
CONTACT
We're pleased to offer you our competent and reliable advice.