IP.Risk supports you in your daily work with the following service modules:
You can conveniently access your desired risk reports online with just a few clicks using our web-based application IP.Risk. Our IP.Risk API is available for structured data access. Our own risk management system allows us to respond flexibly and individually to your needs – for your fund or your ManCo.
Integrated RM approach for liquid, illiquid and mixed portfolios
Value at risk – approach, commitment approach and leverage (daily and intraday)
Liquidity risk using liquidity-at-risk and time-to-liquidity approaches
Stress tests (historical and hypothetical)
Credit risk via Credit VaR
Internal rating model for microfinance loans
Operational risk at fund level
Integrated ESG risk approach
Regulatory risk reporting
Internal and external model validation
KRI reporting for illiquid structures
Online access to our daily risk structure reporting as PDF and Excel
Market price risk report
Liquidity risk report
MaRisk reporting for bank investors
Integrated API access to all risk data
Excerpt risk report IP.Risk (PDF download)
Integrated risk management system for all types of risk
Comprehensive technical expertise in data structuring and data analysis
Full transparency on models, data and processes
High flexibility and quick responsiveness through in-house service
Solutions for your individual needs as a ManCo or fund initiator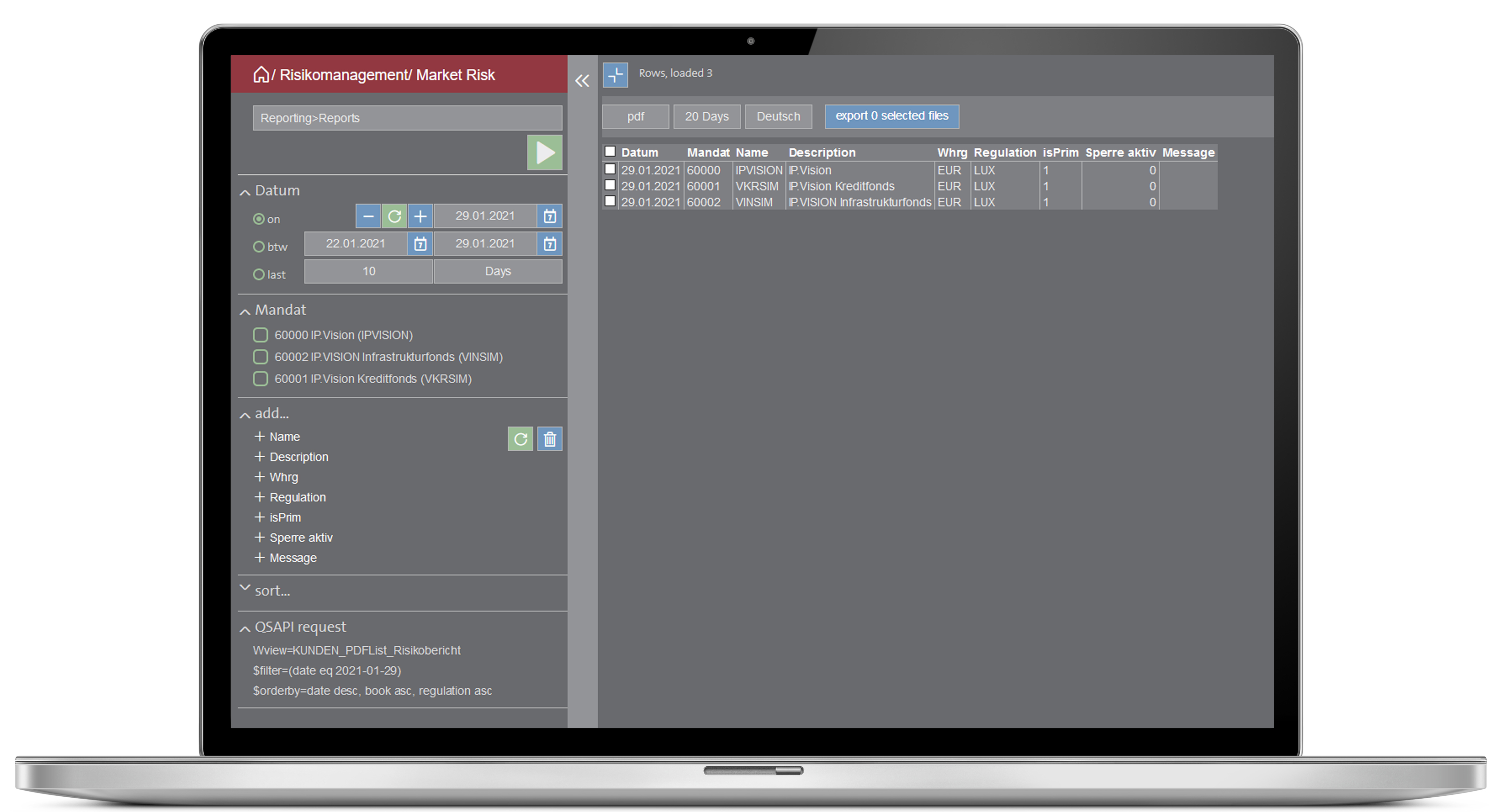 The advantages are abundantly clear:
Security: whether UCITS or AIF, with us you always have the regulatory framework under control.
Expertise: Our team of experienced risk managers is always available to answer any questions.
Transparency: We have a full insight into risk modelling and transparent traceability of the key risk figures down to the last detail.
Availability: Risk reports updated on a daily basis are available for download from our web portal IP.Risk online. If required, you can obtain all data via download or API for further analysis.
Flexible and individual: We develop our system ourselves. Whether new regulatory requirements or for your individual needs – we provide a powerful solution quickly and easily.
CONTACT
We're pleased to offer you our competent and reliable advice.