IP.Performance supports you in your daily work with the following service modules:
Our highly qualified team of experts develops and designs performance analyses flexibly according to your wishes. Define your own sub-portfolios to display various investment goals, hedging strategies or product categories and access your performance analyses from anywhere.
Transaction-based performance calculation with complete depiction of fund price performance
Analysis of the performance of each individual asset – in fund, segment or share class
Performance contribution, time-weighted return and profit-and-loss – our standard reporting contains all commonly used key figures
Market price movements, dividends and distributions, currency effects as well as transaction costs and fees – you can always see the source of performance
Online access to performance reporting
Generate your own reports any time – whenever you need them
Carry out simple analyses of results directly in the portal
Do you need more?

Export all data in XLSX, CSV and XML file formats
Access all performance data via API
You decide what you want to see – we deliver. For example, any sub-portfolios with a breakdown according to

Sub-portfolio manager
Region
Industrial sector
Investment goals
Individual asset class

Brinson, fixed income, multi-currency? Special representations? We design the right analysis – together with you.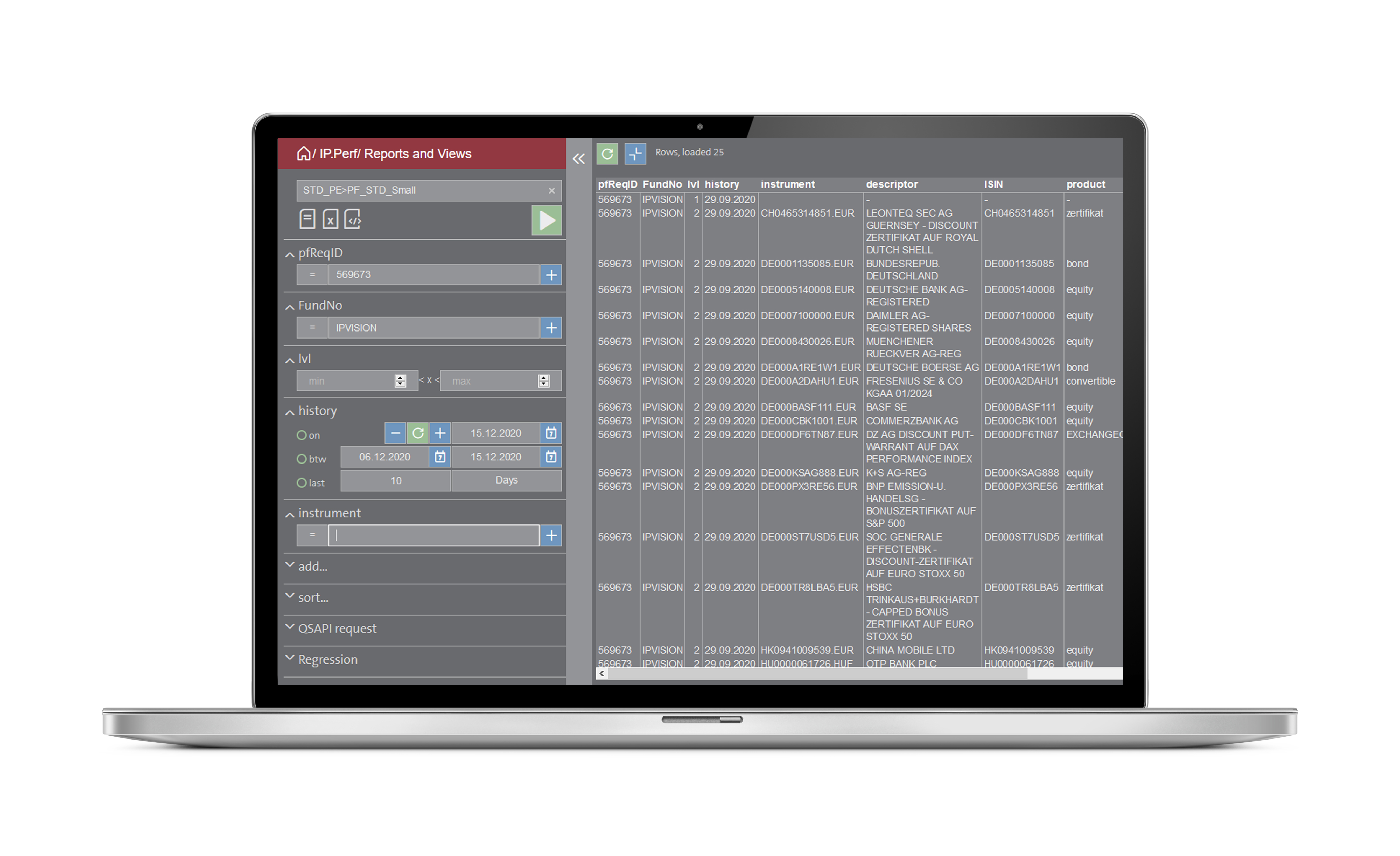 The advantages are abundently clear:
Exact and transparent: We have full insight into the performance calculation up to the last booking.
Available: Your performance reporting is available to you in our IP.Risk web portal. If required, you can obtain all data via download or API for further analysis.
Flexible and individual: We develop our performance analysis platform ourselves. Do you have any special requirements? We provide a powerful solution quickly and easily.
CONTACT
We're pleased to offer you our competent and reliable advice.